Is your house ready for a comeback?
5 useful tips to enjoy your home in a healthy way.
There is little we can tell you that you don't know about confinement.  Although interiors are our thing and in case we are confined again because of a regrowth, we are sure that these 5 tips will help you to leave your home prepared for a possible regrowth.
Tele-office, your home prepared for possible regrowth
Yes, a large number of us who were confined did so at work. Teleworking landed precipitously in our lives and many had to adapt their office to personal space. And that's when we realised how important it is to have a quiet and inspiring place to telework – a place where you can be productive and feel good. A space like the Exa environment where the ceramic cement helps to create the desired atmosphere.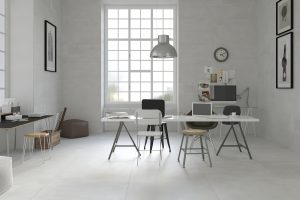 Luminosity in the rooms.
The lack of movement and freedom of transit makes the vitality of sunlight even more necessary. In confinement, light plays an important role in our moods and bright environments convey positive sensations. So don't hesitate, opt for fresh and stimulating environments. Why not go for the power of the #LegacyCollection stone to fill you with energy?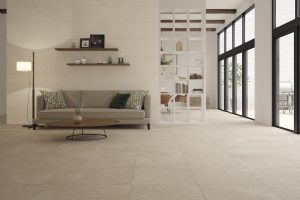 Integrated outdoor environment.
Houses prepared for confinement are undoubtedly those with exterior space. A terrace, balcony or the garden have been the great coveted ones. Rocersa specialises in outdoor ceramics, and that translates into high design with the best features. Visually the same model but technically adapted for a confinement.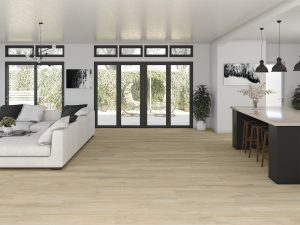 Housing prepared for confinement. Sport.
And as vital as light is sport. To maintain a good physical and mental condition, exercise is essential. Sports regulars have found that corner where they can continue to burn calories. For those of us who find it a little more difficult, preparing the home for sport is the key to success. It has to be a space where there is no furniture or other objects that bother you. And remember that even in the kitchen you can do your stretching or buzzing session. Especially if you have your interiors with such an attractive design as this kitchen from #MakeUpCollection, make room to show it off (and yes, to do sport)!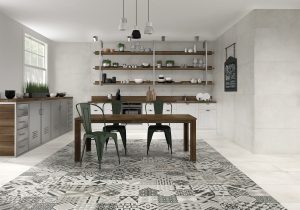 Prevent and disinfect.
And in view of the delicate situation with the COVID-19, making our house a fort of health is key. Take all the recommended precautions to avoid getting infected. Be a little more careful and take extra measures not to "carry the virus inside the house". Disinfecting spaces is much easier on ceramic surfaces. You can use chemicals and cleaning products without fear of damaging the floor.

So, you're all set?
Wait, we still have one extra piece of advice. If we get confined and the hours get long, take a look at our Pinterest account (link to https://www.pinterest.es/rocersa/) to transform the boring hours into a source of inspiration.