Do you know the latest trends in decoration so that your house breathes summer in every corner?
It chooses natural materials, lightweight fabrics and luminous finishes to create relaxed and renewed atmospheres.

Natural fibres as a bonding point.

The combination of natural fibres with wood is always a safe bet and creates a unique summer-Byzantine atmosphere. You can add it to your space in ceiling lamps, chairs or decorative baskets. They can be used both indoors and outdoors and, besides providing warm lighting, they decorate and give a handcrafted touch to any environment.
In this very Mediterranean space we have combined this style with our Livermore Calcita collection in 100×100, which gives rise to a rural space by the sea.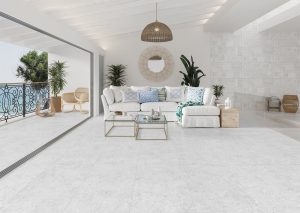 Sailor look, essential for the summer.

Spaces in which the colours blue and white become predominant and protagonists. Combined with elements of the sea such as coral and natural fibres, you generate a unique space that takes you straight to the beach.
Our Coralstone collection, in this environment in Bianco colour 100×100 with fossilized coral decoration, a hit for a summer house in front of the sea.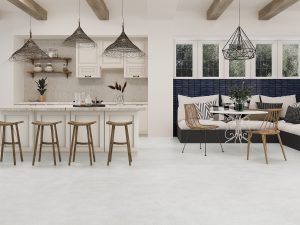 Orangerie style.

You can always choose a particular style and add a few touches of the trends that are being worn in this 2020. The Orangerie style, for example, which originated in France and means "Orange shop", but is commonly translated as "Greenhouse", is one of the latest decorative trends that are most successful and can be seen especially at weddings or in renovated country houses.
In our case we combine in the same space the combination of the previous tendencies, adding natural fibre lamps, joined to a white terrazzo in 31,6×60,8cm in the kitchen wall, the natural stone Livermore in White colour 100x100cm and as a focal point the mosaic Gem Oceano 29,5×30 which reminds us of the sailor look we have mentioned before.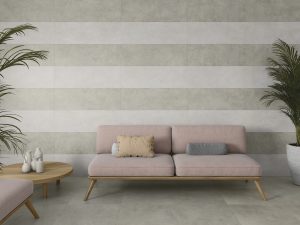 Plants to bring the outside in.

Plants are always a perfect element to give life to an environment or, if they are large, as a bordering element between rooms. As in this environment we show you where 2 floors delimit the living room or the sofa area. Combining it with wood and ceramic pieces in earth colours or beiges generates a decorative space of the most Decofresh.